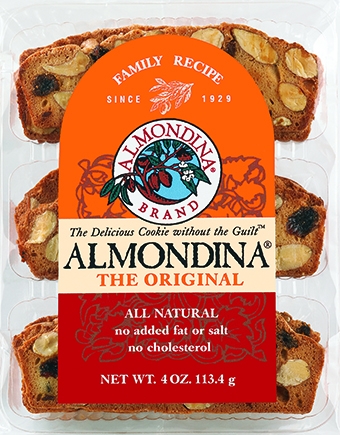 The Original
The delicious cookie without the guilt™ – this is the cookie that made us famous and it is still our #1 bestseller. Based on Grandma Dina's original secret recipe that she called Petit Gateau Sec, we begin with top quality almonds, plump raisins, and a blend of other natural flavors, then cook this to a perfect crispness. Delicious. Crunchy. All-natural. No Cholesterol.
The Original 6-Pack (6 X 4 oz. Tray)

$3.25 per tray - SAVE $1.44

The Original 12-Pack (12 X 4 oz. Tray)

$3.09 per tray - SAVE $4.80

The Original 24-Pack (24 X 4 oz. Tray)

$2.89 per tray - SAVE $14.40
Product Description

INGREDIENTS
Almonds, Flour (wheat flour, malted barley flour), Pure Cane Sugar, Egg Whites, Raisins, Natural Flavors. Kosher Pareve.